SIZING CHART:
***Please allow 1-3 cm (0.5"-1.0") from your actual measurements and refer to our sizing chart above before placing an order. Thank you.***
The length in the size table is the seam length
THE MOST EFFECTIVE TACTICAL PANTS YET


Pants can be more than just clothing. They can be a tool you rely on for your adventure, something so useful it maximizes your capabilities and effectiveness.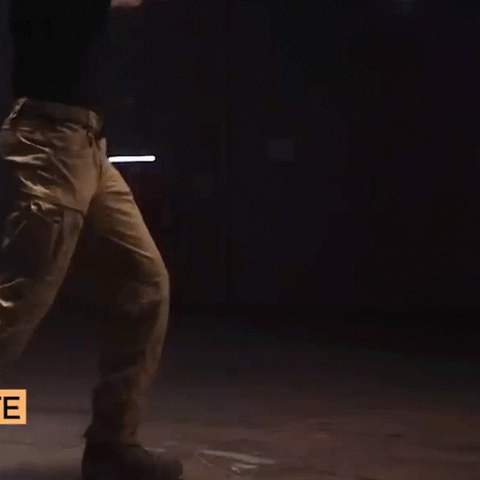 The marines rely on this same IX9 Designed Trouser each day, allowing them to perform at their best. They're comfortable, breathable and fully waterproof. Perfect for trekking, hiking, climbing or just ultra-convenient daily wear which you can rely on for years to come.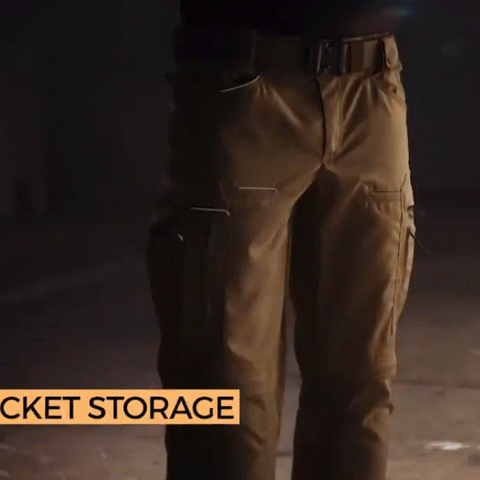 Tactical Waterproof Pants, the most comfortable men's tactical pants are back and better than ever. Lots of pocket storage and full waterproofing, they're built to trek, hike and move - but stylish enough to wear each day. They boast an impressive range of design additions.Can be washed directly with water and machine washable fast drying.
>>
Supporting Goods Recommendation>>
On sale!!If you need to match more clothes,Click here to review
FEATURES:
Zipper closure
Elastic-fitted leg hems

for maximum stretch and comfort
Ergonomic Knee design for maximum range of motion in

any position.
Climbing Caribinar Loop

(TOP TIP: if you don't climb, attach your keys!
2 zipper side pockets + 2 velcro side pockets, full security for possessions.

3 rear pockets

2 crossover front pockets, deep and spacious to keep your hands free at all times.
Material: 65% Nylon + 35% Cotton
Thickness: Mid weight
New and old versions are shipped randomly
Due to the lighting of the shooting, there may be color difference in the real object
SIZE GUIDE:
**Product sizes sometimes vary due to the cutting and style of a garment. 3/8"-3/4" (1-2 cm) difference is defined as normal situation.
${function(){ const rules = data.data.rules; return ` ` }()}
${function(){ const isCart = data.data.isCart; const isCollection = data.data.isCollection; const isProduct = data.data.isProduct; const isIndex = data.data.isIndex; return `

${isCart ? 'The items in the shopping cart do not participate in any recommendation rule. Add the participating items to your shopping cart to check the design.' : ''} ${isProduct ? 'This product did not participated in any recommendation rule. Switch to another product to check the design.' : ''} ${isCollection ? 'The items in this collection do not participate in any recommendation rule. Switch the participating items to check the design.' : ''} ${isIndex ? 'The home page do not participate in any recommendation rule.' : ''} (This prompt would not display on client-side)

Recommended Products

` }()}
${function(){ const rule = data.data; const getImageHeight = function(image){ const image_size = rule.config.image_size || 0; const imageWidth = image.width || 600; const imageHeight = image.height || 800; let ratio = 0; if(image_size == 0){ ratio = (imageHeight / imageWidth).toFixed(2); }else if(image_size == 1){ ratio = 1.5; }else if(image_size == 2){ ratio = 1; }else if(image_size == 3){ ratio = 0.75; } return imageWidth * ratio; }; const toQuery = obj => Object.keys(obj) .map(k => Array.isArray(obj[k]) ? obj[k].map(v => `${k}[]=${encodeURIComponent(v)}`).join('&') : `${k}=${encodeURIComponent(obj[k])}` ) .join('&'); return `
class SpzSmartBlockComponent extends SPZ.BaseElement { constructor(element) { super(element); this.templates_ = null; this.container_ = null; this.i18n_ = {}; this.config_ = {}; this.show_type_ = 3; this.product_resource_id_ = ''; this.collection_resource_id_ = ''; this.cart_items_ = []; this.customer_id_ = ''; this.order_id_ = ''; } static deferredMount() { return false; } isLayoutSupported(layout) { return layout == SPZCore.Layout.CONTAINER; } buildCallback() { const template_type = window.SHOPLAZZA.meta.page.template_type; if (template_type === 1) { this.show_type_ = 3; this.product_resource_id_ = window.SHOPLAZZA.meta.page.resource_id; } else if (template_type === 2) { this.show_type_ = 4; this.collection_resource_id_ = window.SHOPLAZZA.meta.page.resource_id; } else if (template_type === 15){ this.show_type_ = 5; } else if (template_type === 13){ this.show_type_ = 6; } else if (template_type === 20){ this.show_type_ = 7; this.customer_id_ = window.SHOPLAZZA.customer.customer_id; } else if (template_type === 35){ this.show_type_ = 8; this.order_id_ = window.location.pathname.split('/').pop(); } this.templates_ = SPZServices.templatesForDoc(this.element); this.setAction_(); } mountCallback() { console.log('smart mounted'); const that = this; const themeName = window.SHOPLAZZA.theme.merchant_theme_name; const isGeek = /Geek/.test(themeName); this.fetchRules().then((res) => { if (res && res.rules && res.rules.length) { const blockEl = document.getElementById('smart_recommend_block'); SPZ.whenApiDefined(blockEl).then((api) => { api.render({data: res}, true).then(() => { if (isGeek && that.show_type_ === 6) { blockEl.querySelector('.plugin_container_wrpper').style.padding = '30px 0'; } const recommendStyle = document.createElement('style'); recommendStyle.innerHTML = ` .plugin__recommend_container,.app-recommend-card { display: none !important; } `; document.head.appendChild(recommendStyle); const fetchList = []; res.rules.forEach((rule) => { fetchList.push(this.fetchRuleProductList(rule.id)); }); const fetchAll = Promise.all(fetchList); fetchAll.then((p_res) => { res.rules.forEach((rule, index) => { rule.products = p_res[index] && p_res[index].products; const ruleEl = document.getElementById('smart_recommend_rule_' + rule.id); SPZ.whenApiDefined(ruleEl).then((api) => { api.render({data: rule}, true).then(() => { that.impressListen(`#smart_recommend_rule_ul_${rule.id}`, function(){ that.trackRuleImpress(rule); }); const btnElList = document.querySelectorAll(`#smart_recommend_rule_ul_${rule.id} button`); btnElList.forEach((btnEl) => { if (btnEl && rule.config && rule.config.quick_shop_button_bg_color && rule.config.quick_shop_button_text_color) { btnEl.style.backgroundColor = rule.config.quick_shop_button_bg_color; btnEl.style.color = rule.config.quick_shop_button_text_color; } }) }); }); }); }); }) }) } else { if (window.top !== window.self) { const template_type = window.SHOPLAZZA.meta.page.template_type; const holderEl = document.getElementById('smart_recommend_preview_no_data_placeholder'); SPZ.whenApiDefined(holderEl).then((api) => { api.render({data: { isCart: template_type === 13, isCollection: template_type === 2, isProduct: template_type === 1, isIndex: template_type === 15 }}, true); }); } } }); } setAction_() { this.registerAction('quickShop', (data) => { const that = this; const product_id = data.args.product_id; const productIndex = data.args.productIndex; const rule_id = data.args.rule_id; const ssp = data.args.ssp; const scm = data.args.scm; const cfb = data.args.cfb; const ifb = data.args.ifb; const modalRender = document.getElementById('smart_recommend_product_modal_render'); if (product_id) { this.fetchProductData(product_id).then((res) => { const product = res.products && res.products.length && res.products[0] || {}; product.cfb = cfb; product.ifb = ifb; SPZ.whenApiDefined(modalRender).then((api) => { api.render({product: product, productIndex: productIndex, rule_id: rule_id, ssp: ssp, scm: scm, show_type: that.show_type_}, true).then(() => { const modalEl = document.getElementById('smart_recommend_product_modal'); SPZ.whenApiDefined(modalEl).then((modal) => { that.impressListen('#smart_recommend_product_modal', function(){ that.trackQuickShop({ rule_id: rule_id, product_id: product_id }); }); modal.open(); }); const formEl = document.getElementById('smart_recommend_product_form'); SPZ.whenApiDefined(formEl).then((form) => { form.setProduct(product); }); const variantEl = document.getElementById('smart_recommend_product_variants'); SPZ.whenApiDefined(variantEl).then((variant) => { variant.handleRender(product); }); }); }) }); } }); this.registerAction('handleScroll', (data) => { this.directTo(data.args.rule_id, data.args.direction); }); this.registerAction('handleProductChange', (data) => { const variant = data.args.data.variant; const product = data.args.data.product; const imageRenderEl = document.getElementById('smart_recommend_product_image'); SPZ.whenApiDefined(imageRenderEl).then((api) => { api.render({ variant: variant, product: product }, true); }); }); this.registerAction('handleAtcSuccess', (detail) => { const data = detail.args; data.data.product = data.data.product || {}; data.data.variant = data.data.variant || {}; const product_id = data.data.product.id; const product_title = data.data.product.title; const variant_id = data.data.variant.id; const price = data.data.variant.price; const rule_id = data.rule_id; const aid = `smart_recommend.${this.show_type_}.${rule_id}`; const ifb = data.data.product.ifb; const cfb = data.data.product.cfb; const ssp = data.ssp; const scm = data.scm; const spm = `smart_recommend_${this.show_type_}.${data.spmIndex}`; const params = { id: product_id, product_id: product_id, number: 1, name: product_title, variant_id: variant_id, childrenId: variant_id, item_price: price, source: 'add_to_cart', _extra: { aid: aid, ifb: ifb, cfb: cfb, scm: scm, spm: `..${window.SHOPLAZZA.meta.page.template_name}.${spm}`, ssp: ssp, } }; this.tranckAddToCart(params); }); this.registerAction('addATCHook', (data) => { const params = data.args; const spm = `smart_recommend_${this.show_type_}.${params.spmIndex}`; this.myInterceptor_ = window.djInterceptors && window.djInterceptors.track.use({ event: 'dj.addToCart', params: { aid: `smart_recommend.${this.show_type_}.` + params.rule_id, ssp: params.ssp, scm: params.scm, cfb: params.cfb, spm: `..${window.SHOPLAZZA.meta.page.template_name}.${spm}`, }, once: true }); }); } tranckAddToCart(detail) { if (window.$) { window.$(document.body).trigger('dj.addToCart', detail); } } fetchRules() { const payload = { show_type: this.show_type_, }; let that = this; if (this.show_type_ === 6) { let line_items = []; return this.fetchCart().then((res) => { if (res && res.cart && res.cart.line_items) { line_items = res.cart.line_items.map((item) => { return { product_id: item.product_id, variant_id: item.variant_id, quantity: item.quantity, price: item.price } }); } payload.line_items = line_items; that.cart_items_ = line_items; return that.fetchRulesRequest(payload); }); } else { if (this.show_type_ === 3) { payload.line_items = [{ product_id: this.product_resource_id_ }]; } else if (this.show_type_ === 4) { payload.collection_id = this.collection_resource_id_; } else if (this.show_type_ === 7) { payload.customer_id = this.customer_id_; } else if (this.show_type_ === 8) { payload.order_id = this.order_id_; } return this.fetchRulesRequest(payload); } } fetchRulesRequest(payload) { return fetch(window.SHOPLAZZA.routes.root + "/api/possum/recommend_query", { method: "POST", headers: { "Content-Type": "application/json" }, body: JSON.stringify(payload) }).then(function(res){ if(res.ok){ return res.json(); } }); } fetchCart() { return fetch(`/api/cart/cart-select?r=${Math.random().toString(36).slice(-4)}`) .then((res) => { if (res.ok) { return res.json(); } }); } fetchRuleProductList(rule_id) { const payload = { page: 1, limit: 100, fields: ["title", "url", "image", "min_price_variant.price", "min_price_variant.compare_at_price"], rule_id: rule_id, }; if (this.show_type_ === 3) { payload.line_items = [{ product_id: this.product_resource_id_ }]; } else if (this.show_type_ === 4) { payload.collection_id = this.collection_resource_id_; } else if (this.show_type_ === 6) { payload.line_items = this.cart_items_; } else if (this.show_type_ === 7) { payload.customer_id = this.customer_id_; } else if (this.show_type_ === 8) { payload.order_id = this.order_id_; } return fetch(window.SHOPLAZZA.routes.root + "/api/possum/recommend_products", { method: "POST", headers: { "Content-Type": "application/json" }, body: JSON.stringify(payload) }).then(function(res){ if(res.ok){ return res.json(); } }).catch(function(err){ console.log(err); }); } fetchProductData(product_id) { return fetch(window.SHOPLAZZA.routes.root + "/api/possum/products", { method: "POST", headers: { "Content-Type": "application/json" }, body: JSON.stringify({ product_ids: [product_id], fields: [ "images", "options", "min_price_variant", "variants"] }) }).then(function(res){ if(res.ok){ return res.json(); } }).catch(function(err){ console.log(err); const loadingEl = document.getElementById('smart_recommend_loading'); if (loadingEl) { loadingEl.style.display = 'none'; } }); } getStyle(ele, style) { if (!ele) return; if (window.getComputedStyle) { return window.getComputedStyle(ele)[style]; } return ele.currentStyle[style]; } directTo(id, direction) { const scrollElement = document.getElementById(`smart_recommend_rule_ul_${id}`); const blockWidth = parseInt(this.getStyle(scrollElement, 'width')); const scrollLength = (blockWidth * 0.19 - 12) * 5; const scrollPoint = scrollElement.scrollWidth - scrollElement.clientWidth; if (!scrollElement) return; if (direction === 'left') { if (document.dir === 'rtl') { scrollElement.scrollTo({ left: Math.abs(scrollElement.scrollLeft) >= scrollPoint - 100 ? 0 : scrollElement.scrollLeft - scrollLength, behavior: 'smooth' }); return; } scrollElement.scrollTo({ left: Math.max(scrollElement.scrollLeft - scrollLength, 0), behavior: 'smooth' }); } else { if (document.dir === 'rtl') { scrollElement.scrollTo({ left: Math.abs(scrollElement.scrollLeft) >= scrollPoint + 100 ? 0 : scrollElement.scrollLeft + scrollLength, behavior: 'smooth' }); return; } scrollElement.scrollTo({ left: scrollElement.scrollLeft >= scrollPoint - 100 ? 0 : scrollElement.scrollLeft + scrollLength, behavior: 'smooth' }); } } trackRuleImpress(rule) { if (window.sa && window.sa.track) { window.sa.track("plugin_common", { plugin_name: "upsell", event_type: "impressions", rule_id: rule.id, ssp: rule.ssp, scm: rule.scm, show_type: this.show_type_, support_app_block: window.SHOPLAZZA.theme.support_app_block }); window.sa.track("module_impressions", { aid: `smart_recommend.${this.show_type_}.${rule.id}`, support_app_block: window.SHOPLAZZA.theme.support_app_block }); } } trackQuickShop(data) { window.sa && sa.track && sa.track("plugin_common", { plugin_name: "upsell", event_type: "quick_shop", rule_id: data.rule_id, product_id: data.product_id, show_type: this.show_type_, }); } impressListen(selector, cb) { const el = document.querySelector(selector); const onImpress = (e) => { if (e) { e.stopPropagation(); } cb(); }; if (el && !el.getAttribute('imprsd')) { el.addEventListener('impress', onImpress) } else if (el) { onImpress(); } } } SPZ.defineElement('spz-custom-smart-block', SpzSmartBlockComponent);
${(function(){ const product = data.product; const toQuery = obj => Object.keys(obj) .map(k => Array.isArray(obj[k]) ? obj[k].map(v => `${k}[]=${encodeURIComponent(v)}`).join('&') : `${k}=${encodeURIComponent(obj[k])}` ) .join('&'); return `
${product.images.map((image) => { return `` }).join('')}
`; })()}
${(function(){ const product = data.product; const avail_variants = product.variants.filter(function(variant){ return variant.available; }); const selected_variant = product.min_price_variant.available ? product.min_price_variant : avail_variants.length && avail_variants[0]; return ` ` })()}