Comfortable and reassuring. No annoying Bounce.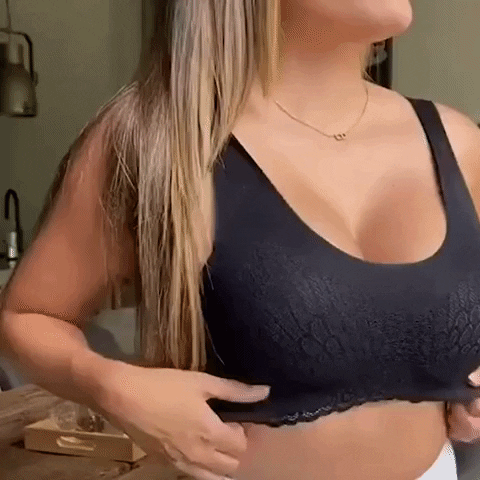 SIZING: Our bras are flexible to fit the 3 groups of Bra sizes.

Bras can be uncomfortable and annoying especially when it gets super
hot outside.

Be confident with our lightweight push-up bra that keeps your breasts intact while offering maximum comfort with our cooling technology keeping you cool all day.
Say goodbye to the embarrassing bounce with a Breathable, Comfortable, Push-up, No-jiggle, Cooling material solution: Airflow Push-up No-Bounce Bra.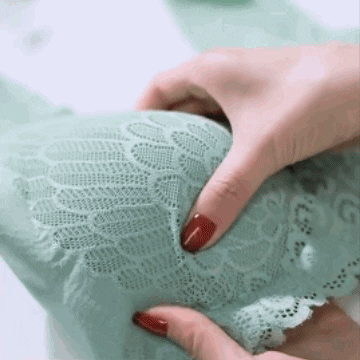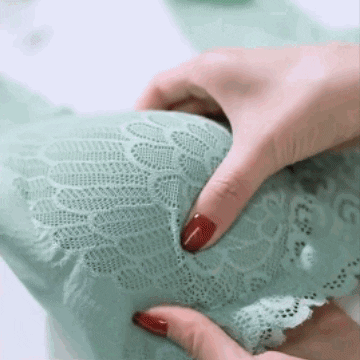 For everyday wear providing the ultimate wire-free support experience to keep you confident, comfortable, and sweat-free throughout the day.

Why our bras?

When you're outside or doing any activities a bad bra can really ruin your mood and your entire day is compromised. Distracted and uncomfortable. With our bras say goodbye to that discomfort and annoying bounce with our cooling push-up technology!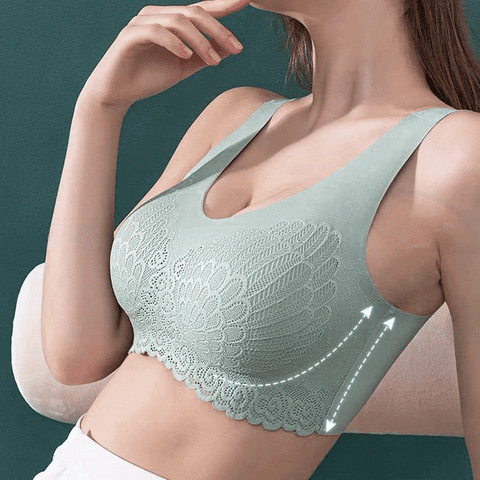 FEATURES:

Physical activities and working out

Get rid of the wires and straps of your sports bra and say hello to a less distracting, more comfortable high-impact bra that offers great support with no distraction comfort.

Sexy silhouette

Look great in any top and let our bra do the hard work for you. The shaping effect with our push design makes it easy to dress up or down.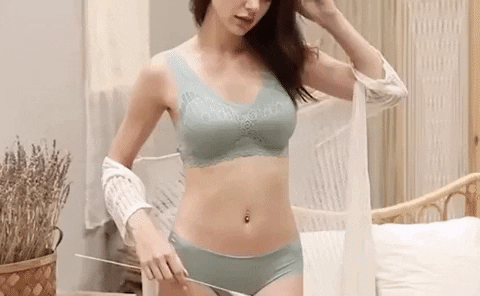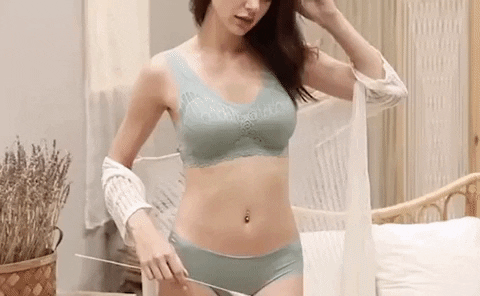 Cleavage-boosting support

Grab the attention you desire with this push-up bra, which enhances and accents your breasts without sacrificing support. Includes hidden and removable contoured pads that give you that extra lift, creating the cleavage of your dreams.

All-day lasting Comfort

The EVERYTHING BRA. Wear it to work, at home, strolls, or even to sleep!
This bra keeps you cool all day long with its super stretchy bands and cloud-soft cups that are super comfortable.
${function(){ const rules = data.data.rules; return ` ` }()}
${function(){ const isCart = data.data.isCart; const isCollection = data.data.isCollection; const isProduct = data.data.isProduct; const isIndex = data.data.isIndex; return `

${isCart ? 'The items in the shopping cart do not participate in any recommendation rule. Add the participating items to your shopping cart to check the design.' : ''} ${isProduct ? 'This product did not participated in any recommendation rule. Switch to another product to check the design.' : ''} ${isCollection ? 'The items in this collection do not participate in any recommendation rule. Switch the participating items to check the design.' : ''} ${isIndex ? 'The home page do not participate in any recommendation rule.' : ''} (This prompt would not display on client-side)

Recommended Products

` }()}
${function(){ const rule = data.data; const getImageHeight = function(image){ const image_size = rule.config.image_size || 0; const imageWidth = image.width || 600; const imageHeight = image.height || 800; let ratio = 0; if(image_size == 0){ ratio = (imageHeight / imageWidth).toFixed(2); }else if(image_size == 1){ ratio = 1.5; }else if(image_size == 2){ ratio = 1; }else if(image_size == 3){ ratio = 0.75; } return imageWidth * ratio; }; const toQuery = obj => Object.keys(obj) .map(k => Array.isArray(obj[k]) ? obj[k].map(v => `${k}[]=${encodeURIComponent(v)}`).join('&') : `${k}=${encodeURIComponent(obj[k])}` ) .join('&'); return `
class SpzSmartBlockComponent extends SPZ.BaseElement { constructor(element) { super(element); this.templates_ = null; this.container_ = null; this.i18n_ = {}; this.config_ = {}; this.show_type_ = 3; this.product_resource_id_ = ''; this.collection_resource_id_ = ''; this.cart_items_ = []; this.customer_id_ = ''; this.order_id_ = ''; } static deferredMount() { return false; } isLayoutSupported(layout) { return layout == SPZCore.Layout.CONTAINER; } buildCallback() { const template_type = window.SHOPLAZZA.meta.page.template_type; if (template_type === 1) { this.show_type_ = 3; this.product_resource_id_ = window.SHOPLAZZA.meta.page.resource_id; } else if (template_type === 2) { this.show_type_ = 4; this.collection_resource_id_ = window.SHOPLAZZA.meta.page.resource_id; } else if (template_type === 15){ this.show_type_ = 5; } else if (template_type === 13){ this.show_type_ = 6; } else if (template_type === 20){ this.show_type_ = 7; this.customer_id_ = window.SHOPLAZZA.customer.customer_id; } else if (template_type === 35){ this.show_type_ = 8; this.order_id_ = window.location.pathname.split('/').pop(); } this.templates_ = SPZServices.templatesForDoc(this.element); this.setAction_(); } mountCallback() { console.log('smart mounted'); const that = this; const themeName = window.SHOPLAZZA.theme.merchant_theme_name; const isGeek = /Geek/.test(themeName); this.fetchRules().then((res) => { if (res && res.rules && res.rules.length) { const blockEl = document.getElementById('smart_recommend_block'); SPZ.whenApiDefined(blockEl).then((api) => { api.render({data: res}, true).then(() => { if (isGeek && that.show_type_ === 6) { blockEl.querySelector('.plugin_container_wrpper').style.padding = '30px 0'; } const recommendStyle = document.createElement('style'); recommendStyle.innerHTML = ` .plugin__recommend_container,.app-recommend-card { display: none !important; } `; document.head.appendChild(recommendStyle); const fetchList = []; res.rules.forEach((rule) => { fetchList.push(this.fetchRuleProductList(rule.id)); }); const fetchAll = Promise.all(fetchList); fetchAll.then((p_res) => { res.rules.forEach((rule, index) => { rule.products = p_res[index] && p_res[index].products; const ruleEl = document.getElementById('smart_recommend_rule_' + rule.id); SPZ.whenApiDefined(ruleEl).then((api) => { api.render({data: rule}, true).then(() => { that.impressListen(`#smart_recommend_rule_ul_${rule.id}`, function(){ that.trackRuleImpress(rule); }); const btnElList = document.querySelectorAll(`#smart_recommend_rule_ul_${rule.id} button`); btnElList.forEach((btnEl) => { if (btnEl && rule.config && rule.config.quick_shop_button_bg_color && rule.config.quick_shop_button_text_color) { btnEl.style.backgroundColor = rule.config.quick_shop_button_bg_color; btnEl.style.color = rule.config.quick_shop_button_text_color; } }) }); }); }); }); }) }) } else { if (window.top !== window.self) { const template_type = window.SHOPLAZZA.meta.page.template_type; const holderEl = document.getElementById('smart_recommend_preview_no_data_placeholder'); SPZ.whenApiDefined(holderEl).then((api) => { api.render({data: { isCart: template_type === 13, isCollection: template_type === 2, isProduct: template_type === 1, isIndex: template_type === 15 }}, true); }); } } }); } setAction_() { this.registerAction('quickShop', (data) => { const that = this; const product_id = data.args.product_id; const productIndex = data.args.productIndex; const rule_id = data.args.rule_id; const ssp = data.args.ssp; const scm = data.args.scm; const cfb = data.args.cfb; const ifb = data.args.ifb; const modalRender = document.getElementById('smart_recommend_product_modal_render'); if (product_id) { this.fetchProductData(product_id).then((res) => { const product = res.products && res.products.length && res.products[0] || {}; product.cfb = cfb; product.ifb = ifb; SPZ.whenApiDefined(modalRender).then((api) => { api.render({product: product, productIndex: productIndex, rule_id: rule_id, ssp: ssp, scm: scm, show_type: that.show_type_}, true).then(() => { const modalEl = document.getElementById('smart_recommend_product_modal'); SPZ.whenApiDefined(modalEl).then((modal) => { that.impressListen('#smart_recommend_product_modal', function(){ that.trackQuickShop({ rule_id: rule_id, product_id: product_id }); }); modal.open(); }); const formEl = document.getElementById('smart_recommend_product_form'); SPZ.whenApiDefined(formEl).then((form) => { form.setProduct(product); }); const variantEl = document.getElementById('smart_recommend_product_variants'); SPZ.whenApiDefined(variantEl).then((variant) => { variant.handleRender(product); }); }); }) }); } }); this.registerAction('handleScroll', (data) => { this.directTo(data.args.rule_id, data.args.direction); }); this.registerAction('handleProductChange', (data) => { const variant = data.args.data.variant; const product = data.args.data.product; const imageRenderEl = document.getElementById('smart_recommend_product_image'); SPZ.whenApiDefined(imageRenderEl).then((api) => { api.render({ variant: variant, product: product }, true); }); }); this.registerAction('handleAtcSuccess', (detail) => { const data = detail.args; data.data.product = data.data.product || {}; data.data.variant = data.data.variant || {}; const product_id = data.data.product.id; const product_title = data.data.product.title; const variant_id = data.data.variant.id; const price = data.data.variant.price; const rule_id = data.rule_id; const aid = `smart_recommend.${this.show_type_}.${rule_id}`; const ifb = data.data.product.ifb; const cfb = data.data.product.cfb; const ssp = data.ssp; const scm = data.scm; const spm = `smart_recommend_${this.show_type_}.${data.spmIndex}`; const params = { id: product_id, product_id: product_id, number: 1, name: product_title, variant_id: variant_id, childrenId: variant_id, item_price: price, source: 'add_to_cart', _extra: { aid: aid, ifb: ifb, cfb: cfb, scm: scm, spm: `..${window.SHOPLAZZA.meta.page.template_name}.${spm}`, ssp: ssp, } }; this.tranckAddToCart(params); }); this.registerAction('addATCHook', (data) => { const params = data.args; const spm = `smart_recommend_${this.show_type_}.${params.spmIndex}`; this.myInterceptor_ = window.djInterceptors && window.djInterceptors.track.use({ event: 'dj.addToCart', params: { aid: `smart_recommend.${this.show_type_}.` + params.rule_id, ssp: params.ssp, scm: params.scm, cfb: params.cfb, spm: `..${window.SHOPLAZZA.meta.page.template_name}.${spm}`, }, once: true }); }); } tranckAddToCart(detail) { if (window.$) { window.$(document.body).trigger('dj.addToCart', detail); } } fetchRules() { const payload = { show_type: this.show_type_, }; let that = this; if (this.show_type_ === 6) { let line_items = []; return this.fetchCart().then((res) => { if (res && res.cart && res.cart.line_items) { line_items = res.cart.line_items.map((item) => { return { product_id: item.product_id, variant_id: item.variant_id, quantity: item.quantity, price: item.price } }); } payload.line_items = line_items; that.cart_items_ = line_items; return that.fetchRulesRequest(payload); }); } else { if (this.show_type_ === 3) { payload.line_items = [{ product_id: this.product_resource_id_ }]; } else if (this.show_type_ === 4) { payload.collection_id = this.collection_resource_id_; } else if (this.show_type_ === 7) { payload.customer_id = this.customer_id_; } else if (this.show_type_ === 8) { payload.order_id = this.order_id_; } return this.fetchRulesRequest(payload); } } fetchRulesRequest(payload) { return fetch(window.SHOPLAZZA.routes.root + "/api/possum/recommend_query", { method: "POST", headers: { "Content-Type": "application/json" }, body: JSON.stringify(payload) }).then(function(res){ if(res.ok){ return res.json(); } }); } fetchCart() { return fetch(`/api/cart/cart-select?r=${Math.random().toString(36).slice(-4)}`) .then((res) => { if (res.ok) { return res.json(); } }); } fetchRuleProductList(rule_id) { const payload = { page: 1, limit: 100, fields: ["title", "url", "image", "min_price_variant.price", "min_price_variant.compare_at_price"], rule_id: rule_id, }; if (this.show_type_ === 3) { payload.line_items = [{ product_id: this.product_resource_id_ }]; } else if (this.show_type_ === 4) { payload.collection_id = this.collection_resource_id_; } else if (this.show_type_ === 6) { payload.line_items = this.cart_items_; } else if (this.show_type_ === 7) { payload.customer_id = this.customer_id_; } else if (this.show_type_ === 8) { payload.order_id = this.order_id_; } return fetch(window.SHOPLAZZA.routes.root + "/api/possum/recommend_products", { method: "POST", headers: { "Content-Type": "application/json" }, body: JSON.stringify(payload) }).then(function(res){ if(res.ok){ return res.json(); } }).catch(function(err){ console.log(err); }); } fetchProductData(product_id) { return fetch(window.SHOPLAZZA.routes.root + "/api/possum/products", { method: "POST", headers: { "Content-Type": "application/json" }, body: JSON.stringify({ product_ids: [product_id], fields: [ "images", "options", "min_price_variant", "variants"] }) }).then(function(res){ if(res.ok){ return res.json(); } }).catch(function(err){ console.log(err); const loadingEl = document.getElementById('smart_recommend_loading'); if (loadingEl) { loadingEl.style.display = 'none'; } }); } getStyle(ele, style) { if (!ele) return; if (window.getComputedStyle) { return window.getComputedStyle(ele)[style]; } return ele.currentStyle[style]; } directTo(id, direction) { const scrollElement = document.getElementById(`smart_recommend_rule_ul_${id}`); const blockWidth = parseInt(this.getStyle(scrollElement, 'width')); const scrollLength = (blockWidth * 0.19 - 12) * 5; const scrollPoint = scrollElement.scrollWidth - scrollElement.clientWidth; if (!scrollElement) return; if (direction === 'left') { if (document.dir === 'rtl') { scrollElement.scrollTo({ left: Math.abs(scrollElement.scrollLeft) >= scrollPoint - 100 ? 0 : scrollElement.scrollLeft - scrollLength, behavior: 'smooth' }); return; } scrollElement.scrollTo({ left: Math.max(scrollElement.scrollLeft - scrollLength, 0), behavior: 'smooth' }); } else { if (document.dir === 'rtl') { scrollElement.scrollTo({ left: Math.abs(scrollElement.scrollLeft) >= scrollPoint + 100 ? 0 : scrollElement.scrollLeft + scrollLength, behavior: 'smooth' }); return; } scrollElement.scrollTo({ left: scrollElement.scrollLeft >= scrollPoint - 100 ? 0 : scrollElement.scrollLeft + scrollLength, behavior: 'smooth' }); } } trackRuleImpress(rule) { if (window.sa && window.sa.track) { window.sa.track("plugin_common", { plugin_name: "upsell", event_type: "impressions", rule_id: rule.id, ssp: rule.ssp, scm: rule.scm, show_type: this.show_type_, support_app_block: window.SHOPLAZZA.theme.support_app_block }); window.sa.track("module_impressions", { aid: `smart_recommend.${this.show_type_}.${rule.id}`, support_app_block: window.SHOPLAZZA.theme.support_app_block }); } } trackQuickShop(data) { window.sa && sa.track && sa.track("plugin_common", { plugin_name: "upsell", event_type: "quick_shop", rule_id: data.rule_id, product_id: data.product_id, show_type: this.show_type_, }); } impressListen(selector, cb) { const el = document.querySelector(selector); const onImpress = (e) => { if (e) { e.stopPropagation(); } cb(); }; if (el && !el.getAttribute('imprsd')) { el.addEventListener('impress', onImpress) } else if (el) { onImpress(); } } } SPZ.defineElement('spz-custom-smart-block', SpzSmartBlockComponent);
${(function(){ const product = data.product; const toQuery = obj => Object.keys(obj) .map(k => Array.isArray(obj[k]) ? obj[k].map(v => `${k}[]=${encodeURIComponent(v)}`).join('&') : `${k}=${encodeURIComponent(obj[k])}` ) .join('&'); return `
${product.images.map((image) => { return `` }).join('')}
`; })()}
${(function(){ const product = data.product; const avail_variants = product.variants.filter(function(variant){ return variant.available; }); const selected_variant = product.min_price_variant.available ? product.min_price_variant : avail_variants.length && avail_variants[0]; return ` ` })()}