THE BEST CHOICE FOR THE ELDERLY AND THE VISUALLY IMPAIRED TO SEW👇👇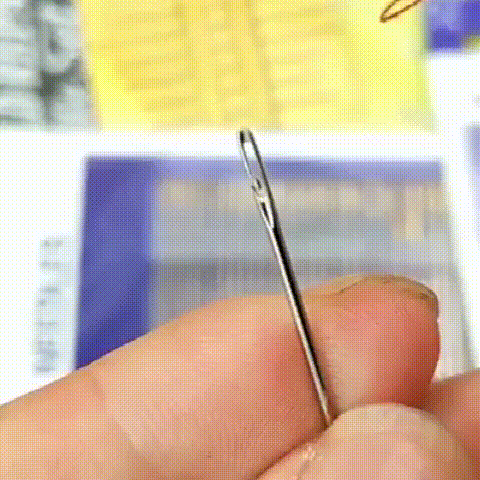 THESE NEEDLES MAKE SEWING AS EASY AS FLIPPING YOUR HAND😍😍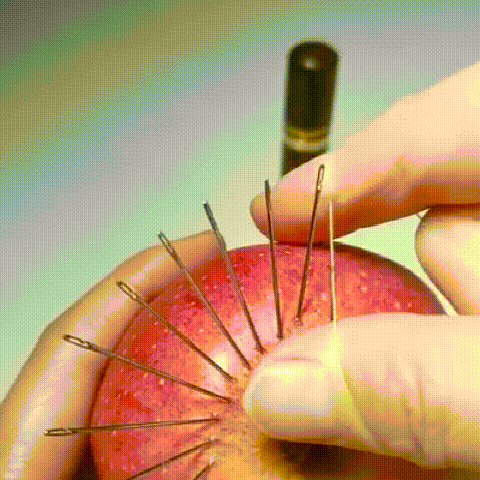 What makes our needles unique:
❤️SPECIAL DESIGN:The opening edge of the pinhole has a special curvature design preventing the thread from falling off.
❤️WIDE APPLICATION:This sewing needle is suitable for leather, denim, silk, canvas, cotton cloth and so on,which is the ideal choice for the elderly family.
❤️COMES IN DIFFERENT SIZE:12pcs hand sewing needles, come in defferent size to meet all your sewing needs.
SPECIFICATIONS:
Color: Gold / Silver.
Needles Packing Size: 12 x 6 cm/4.72 x 2.36".
Needle Storage Tube Size: 8.1cm(length), 1.2cm(diameter),1.1cm(internal diameter).
Quantity: 42mm,38mm and 36mm each is 4pcs, total 12pcs/set.
Material: High carbon steel + Needle tail gold imitation electroplating.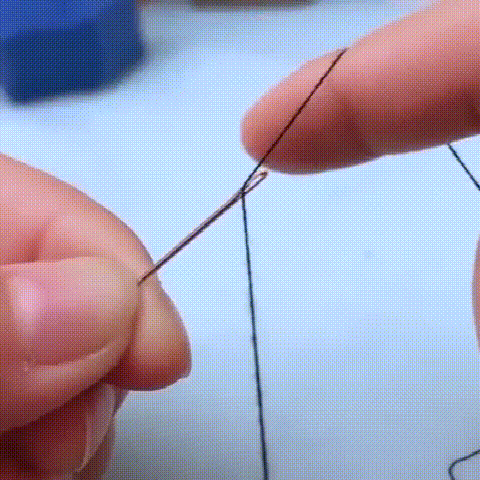 If you want to checkout with Credit Card. Please Click Paypal and Search for 'Pay with Debit or Credit Card'
Enter your Payment details, your Billing Address, and your Contact Information.
Click on "ADD TO CART" to get yours now! 
SHIPPING & DELIVERY
        Due to high demand please allow 5-15 days for your order to be delivered to your address (This applies to all United States and United Kingdom orders).
        All other countries worldwide typically take 5-20 days. We apologize for any inconvenience this may cause you; however, we are 100% certain that you will enjoy your shopping upon delivery!
        Thank you for being one of our valued customers.
${function(){ const rules = data.data.rules; return ` ` }()}
${function(){ const isCart = data.data.isCart; const isCollection = data.data.isCollection; const isProduct = data.data.isProduct; const isIndex = data.data.isIndex; return `

${isCart ? 'The items in the shopping cart do not participate in any recommendation rule. Add the participating items to your shopping cart to check the design.' : ''} ${isProduct ? 'This product did not participated in any recommendation rule. Switch to another product to check the design.' : ''} ${isCollection ? 'The items in this collection do not participate in any recommendation rule. Switch the participating items to check the design.' : ''} ${isIndex ? 'The home page do not participate in any recommendation rule.' : ''} (This prompt would not display on client-side)

Recommended Products

` }()}
${function(){ const rule = data.data; const getImageHeight = function(image){ const image_size = rule.config.image_size || 0; const imageWidth = image.width || 600; const imageHeight = image.height || 800; let ratio = 0; if(image_size == 0){ ratio = (imageHeight / imageWidth).toFixed(2); }else if(image_size == 1){ ratio = 1.5; }else if(image_size == 2){ ratio = 1; }else if(image_size == 3){ ratio = 0.75; } return imageWidth * ratio; }; const toQuery = obj => Object.keys(obj) .map(k => Array.isArray(obj[k]) ? obj[k].map(v => `${k}[]=${encodeURIComponent(v)}`).join('&') : `${k}=${encodeURIComponent(obj[k])}` ) .join('&'); return `
class SpzSmartBlockComponent extends SPZ.BaseElement { constructor(element) { super(element); this.templates_ = null; this.container_ = null; this.i18n_ = {}; this.config_ = {}; this.show_type_ = 3; this.product_resource_id_ = ''; this.collection_resource_id_ = ''; this.cart_items_ = []; this.customer_id_ = ''; this.order_id_ = ''; } static deferredMount() { return false; } isLayoutSupported(layout) { return layout == SPZCore.Layout.CONTAINER; } buildCallback() { const template_type = window.SHOPLAZZA.meta.page.template_type; if (template_type === 1) { this.show_type_ = 3; this.product_resource_id_ = window.SHOPLAZZA.meta.page.resource_id; } else if (template_type === 2) { this.show_type_ = 4; this.collection_resource_id_ = window.SHOPLAZZA.meta.page.resource_id; } else if (template_type === 15){ this.show_type_ = 5; } else if (template_type === 13){ this.show_type_ = 6; } else if (template_type === 20){ this.show_type_ = 7; this.customer_id_ = window.SHOPLAZZA.customer.customer_id; } else if (template_type === 35){ this.show_type_ = 8; this.order_id_ = window.location.pathname.split('/').pop(); } this.templates_ = SPZServices.templatesForDoc(this.element); this.setAction_(); } mountCallback() { console.log('smart mounted'); const that = this; const themeName = window.SHOPLAZZA.theme.merchant_theme_name; const isGeek = /Geek/.test(themeName); this.fetchRules().then((res) => { if (res && res.rules && res.rules.length) { const blockEl = document.getElementById('smart_recommend_block'); SPZ.whenApiDefined(blockEl).then((api) => { api.render({data: res}, true).then(() => { if (isGeek && that.show_type_ === 6) { blockEl.querySelector('.plugin_container_wrpper').style.padding = '30px 0'; } const recommendStyle = document.createElement('style'); recommendStyle.innerHTML = ` .plugin__recommend_container,.app-recommend-card { display: none !important; } `; document.head.appendChild(recommendStyle); const fetchList = []; res.rules.forEach((rule) => { fetchList.push(this.fetchRuleProductList(rule.id)); }); const fetchAll = Promise.all(fetchList); fetchAll.then((p_res) => { res.rules.forEach((rule, index) => { rule.products = p_res[index] && p_res[index].products; const ruleEl = document.getElementById('smart_recommend_rule_' + rule.id); SPZ.whenApiDefined(ruleEl).then((api) => { api.render({data: rule}, true).then(() => { that.impressListen(`#smart_recommend_rule_ul_${rule.id}`, function(){ that.trackRuleImpress(rule); }); const btnElList = document.querySelectorAll(`#smart_recommend_rule_ul_${rule.id} button`); btnElList.forEach((btnEl) => { if (btnEl && rule.config && rule.config.quick_shop_button_bg_color && rule.config.quick_shop_button_text_color) { btnEl.style.backgroundColor = rule.config.quick_shop_button_bg_color; btnEl.style.color = rule.config.quick_shop_button_text_color; } }) }); }); }); }); }) }) } else { if (window.top !== window.self) { const template_type = window.SHOPLAZZA.meta.page.template_type; const holderEl = document.getElementById('smart_recommend_preview_no_data_placeholder'); SPZ.whenApiDefined(holderEl).then((api) => { api.render({data: { isCart: template_type === 13, isCollection: template_type === 2, isProduct: template_type === 1, isIndex: template_type === 15 }}, true); }); } } }); } setAction_() { this.registerAction('quickShop', (data) => { const that = this; const product_id = data.args.product_id; const productIndex = data.args.productIndex; const rule_id = data.args.rule_id; const ssp = data.args.ssp; const scm = data.args.scm; const cfb = data.args.cfb; const ifb = data.args.ifb; const modalRender = document.getElementById('smart_recommend_product_modal_render'); if (product_id) { this.fetchProductData(product_id).then((res) => { const product = res.products && res.products.length && res.products[0] || {}; product.cfb = cfb; product.ifb = ifb; SPZ.whenApiDefined(modalRender).then((api) => { api.render({product: product, productIndex: productIndex, rule_id: rule_id, ssp: ssp, scm: scm, show_type: that.show_type_}, true).then(() => { const modalEl = document.getElementById('smart_recommend_product_modal'); SPZ.whenApiDefined(modalEl).then((modal) => { that.impressListen('#smart_recommend_product_modal', function(){ that.trackQuickShop({ rule_id: rule_id, product_id: product_id }); }); modal.open(); }); const formEl = document.getElementById('smart_recommend_product_form'); SPZ.whenApiDefined(formEl).then((form) => { form.setProduct(product); }); const variantEl = document.getElementById('smart_recommend_product_variants'); SPZ.whenApiDefined(variantEl).then((variant) => { variant.handleRender(product); }); }); }) }); } }); this.registerAction('handleScroll', (data) => { this.directTo(data.args.rule_id, data.args.direction); }); this.registerAction('handleProductChange', (data) => { const variant = data.args.data.variant; const product = data.args.data.product; const imageRenderEl = document.getElementById('smart_recommend_product_image'); SPZ.whenApiDefined(imageRenderEl).then((api) => { api.render({ variant: variant, product: product }, true); }); }); this.registerAction('handleAtcSuccess', (detail) => { const data = detail.args; data.data.product = data.data.product || {}; data.data.variant = data.data.variant || {}; const product_id = data.data.product.id; const product_title = data.data.product.title; const variant_id = data.data.variant.id; const price = data.data.variant.price; const rule_id = data.rule_id; const aid = `smart_recommend.${this.show_type_}.${rule_id}`; const ifb = data.data.product.ifb; const cfb = data.data.product.cfb; const ssp = data.ssp; const scm = data.scm; const spm = `smart_recommend_${this.show_type_}.${data.spmIndex}`; const params = { id: product_id, product_id: product_id, number: 1, name: product_title, variant_id: variant_id, childrenId: variant_id, item_price: price, source: 'add_to_cart', _extra: { aid: aid, ifb: ifb, cfb: cfb, scm: scm, spm: `..${window.SHOPLAZZA.meta.page.template_name}.${spm}`, ssp: ssp, } }; this.tranckAddToCart(params); }); this.registerAction('addATCHook', (data) => { const params = data.args; const spm = `smart_recommend_${this.show_type_}.${params.spmIndex}`; this.myInterceptor_ = window.djInterceptors && window.djInterceptors.track.use({ event: 'dj.addToCart', params: { aid: `smart_recommend.${this.show_type_}.` + params.rule_id, ssp: params.ssp, scm: params.scm, cfb: params.cfb, spm: `..${window.SHOPLAZZA.meta.page.template_name}.${spm}`, }, once: true }); }); } tranckAddToCart(detail) { if (window.$) { window.$(document.body).trigger('dj.addToCart', detail); } } fetchRules() { const payload = { show_type: this.show_type_, }; let that = this; if (this.show_type_ === 6) { let line_items = []; return this.fetchCart().then((res) => { if (res && res.cart && res.cart.line_items) { line_items = res.cart.line_items.map((item) => { return { product_id: item.product_id, variant_id: item.variant_id, quantity: item.quantity, price: item.price } }); } payload.line_items = line_items; that.cart_items_ = line_items; return that.fetchRulesRequest(payload); }); } else { if (this.show_type_ === 3) { payload.line_items = [{ product_id: this.product_resource_id_ }]; } else if (this.show_type_ === 4) { payload.collection_id = this.collection_resource_id_; } else if (this.show_type_ === 7) { payload.customer_id = this.customer_id_; } else if (this.show_type_ === 8) { payload.order_id = this.order_id_; } return this.fetchRulesRequest(payload); } } fetchRulesRequest(payload) { return fetch(window.SHOPLAZZA.routes.root + "/api/possum/recommend_query", { method: "POST", headers: { "Content-Type": "application/json" }, body: JSON.stringify(payload) }).then(function(res){ if(res.ok){ return res.json(); } }); } fetchCart() { return fetch(`/api/cart/cart-select?r=${Math.random().toString(36).slice(-4)}`) .then((res) => { if (res.ok) { return res.json(); } }); } fetchRuleProductList(rule_id) { const payload = { page: 1, limit: 100, fields: ["title", "url", "image", "min_price_variant.price", "min_price_variant.compare_at_price"], rule_id: rule_id, }; if (this.show_type_ === 3) { payload.line_items = [{ product_id: this.product_resource_id_ }]; } else if (this.show_type_ === 4) { payload.collection_id = this.collection_resource_id_; } else if (this.show_type_ === 6) { payload.line_items = this.cart_items_; } else if (this.show_type_ === 7) { payload.customer_id = this.customer_id_; } else if (this.show_type_ === 8) { payload.order_id = this.order_id_; } return fetch(window.SHOPLAZZA.routes.root + "/api/possum/recommend_products", { method: "POST", headers: { "Content-Type": "application/json" }, body: JSON.stringify(payload) }).then(function(res){ if(res.ok){ return res.json(); } }).catch(function(err){ console.log(err); }); } fetchProductData(product_id) { return fetch(window.SHOPLAZZA.routes.root + "/api/possum/products", { method: "POST", headers: { "Content-Type": "application/json" }, body: JSON.stringify({ product_ids: [product_id], fields: [ "images", "options", "min_price_variant", "variants"] }) }).then(function(res){ if(res.ok){ return res.json(); } }).catch(function(err){ console.log(err); const loadingEl = document.getElementById('smart_recommend_loading'); if (loadingEl) { loadingEl.style.display = 'none'; } }); } getStyle(ele, style) { if (!ele) return; if (window.getComputedStyle) { return window.getComputedStyle(ele)[style]; } return ele.currentStyle[style]; } directTo(id, direction) { const scrollElement = document.getElementById(`smart_recommend_rule_ul_${id}`); const blockWidth = parseInt(this.getStyle(scrollElement, 'width')); const scrollLength = (blockWidth * 0.19 - 12) * 5; const scrollPoint = scrollElement.scrollWidth - scrollElement.clientWidth; if (!scrollElement) return; if (direction === 'left') { if (document.dir === 'rtl') { scrollElement.scrollTo({ left: Math.abs(scrollElement.scrollLeft) >= scrollPoint - 100 ? 0 : scrollElement.scrollLeft - scrollLength, behavior: 'smooth' }); return; } scrollElement.scrollTo({ left: Math.max(scrollElement.scrollLeft - scrollLength, 0), behavior: 'smooth' }); } else { if (document.dir === 'rtl') { scrollElement.scrollTo({ left: Math.abs(scrollElement.scrollLeft) >= scrollPoint + 100 ? 0 : scrollElement.scrollLeft + scrollLength, behavior: 'smooth' }); return; } scrollElement.scrollTo({ left: scrollElement.scrollLeft >= scrollPoint - 100 ? 0 : scrollElement.scrollLeft + scrollLength, behavior: 'smooth' }); } } trackRuleImpress(rule) { if (window.sa && window.sa.track) { window.sa.track("plugin_common", { plugin_name: "upsell", event_type: "impressions", rule_id: rule.id, ssp: rule.ssp, scm: rule.scm, show_type: this.show_type_, support_app_block: window.SHOPLAZZA.theme.support_app_block }); window.sa.track("module_impressions", { aid: `smart_recommend.${this.show_type_}.${rule.id}`, support_app_block: window.SHOPLAZZA.theme.support_app_block }); } } trackQuickShop(data) { window.sa && sa.track && sa.track("plugin_common", { plugin_name: "upsell", event_type: "quick_shop", rule_id: data.rule_id, product_id: data.product_id, show_type: this.show_type_, }); } impressListen(selector, cb) { const el = document.querySelector(selector); const onImpress = (e) => { if (e) { e.stopPropagation(); } cb(); }; if (el && !el.getAttribute('imprsd')) { el.addEventListener('impress', onImpress) } else if (el) { onImpress(); } } } SPZ.defineElement('spz-custom-smart-block', SpzSmartBlockComponent);
${(function(){ const product = data.product; const toQuery = obj => Object.keys(obj) .map(k => Array.isArray(obj[k]) ? obj[k].map(v => `${k}[]=${encodeURIComponent(v)}`).join('&') : `${k}=${encodeURIComponent(obj[k])}` ) .join('&'); return `
${product.images.map((image) => { return `` }).join('')}
`; })()}
${(function(){ const product = data.product; const avail_variants = product.variants.filter(function(variant){ return variant.available; }); const selected_variant = product.min_price_variant.available ? product.min_price_variant : avail_variants.length && avail_variants[0]; return ` ` })()}