"THIS CASE PROTECTS YOUR PHONE IN STYLE AND IS SUPER SOFT & SQUISHY." 
Looking for the softest and most fashionable iPhone case that has ever been made? Then you need this one! Puffer Case started as a meme of a puffer jacket photoshopped onto a case and went completely viral! That's when we've decided to bring it to real life.
All our cases are unisex and made exclusively for iPhone users. It's an ultimate wardrobe staple and is super soft yet protective. The soft ridged design is loved by our customers and isn't bulky at all, which makes sure it fits in every single pocket, from puffer jackets and jeans to handbags.
Due to the waterproof feature and the shock absorbent material, it has a great durability and protects your phone extremely well.
This is backed by our 30 day money-back trial guarantee. If you're unsatisfied with the case, simply send them back to us and we will refund you in full.
VIRAL ON TIKTOK!
It's time to upgrade your case game with the one of a kind Puffer Case! Voted the best phone case of 2022, you can get your's exclusively here!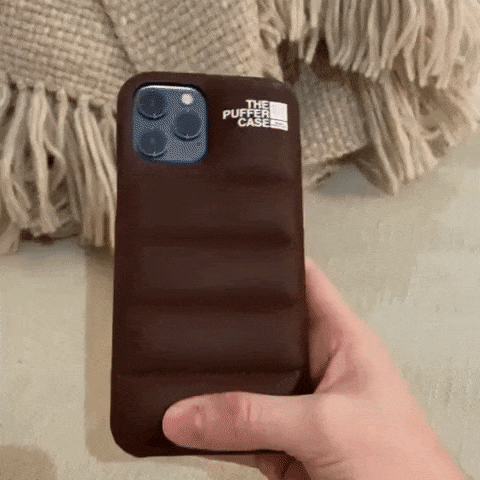 SLEEK AND COMFORTABLE
The Puffer Case is as comfortable as it looks! With sleek edges and a comfortable grip, your case is sure to stand out from others. Our case also provides amazing support, so if you drop your phone, it will stay protected.
PRODUCT DETAILS
Material: Water Resistant Polyurethane for extra protection
Water-resistant: Yes
Phone: Only for iPhone users, we're sorry Android 
Frequently Asked Questions
How much does shipping cost?
Free shipping applies to orders over $29.99.
Does it also protect the front side of my phone?
Yes, it does protect both sides of your phone!
How do I clean the case?
To clean the case just wipe with a wet cloth.
No Risk, 100% Exchange or Refund.

24/7/365 support care.

100% quality inspection on every order.

No surprises or hidden fees.

All orders are tracked from start to finish.
*Update: As of now, all of our puffer cases are currently in stock. However, due to increased Social Media attention, this product is selling extremely fast and we are estimating to be out of stock very shortly. Act Fast Before It Sells Out!